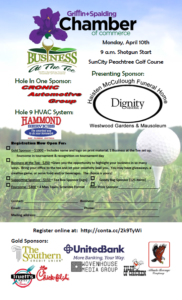 The Griffin-Spalding Chamber of Commerce is hosting its annual Business at the Tee event this Monday, April 10, 2017.  As a business expo, this great event is used to raise funds for the Chamber, while simultaneously promoting local businesses by allowing the community and businesses to interact in a fun setting–golf!
This year's event is being held at the Sun City Golf Course in Griffin, Georgia.  Starting at 9:00 a.m., the event will conclude later in the afternoon.
The Sellers Law Firm, LLC, is excited to be participating in this great event, and we look forward to meeting with and discussing our firm with all of those in attendance.  We hope to see you there!