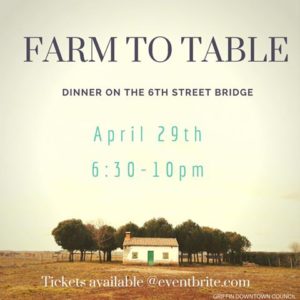 On Saturday, April 29, 2017, the Griffin Downtown Council is hosting its first ever Farm to Table Dinner on the 6th Street Bridge in downtown Griffin, Georgia. The 6th Street Bridge will be lined with locally handcrafted farmhouse tables to create a dinner full of rustic southern ambiance.  With local food provided by local farmers, Griffin will be hosting a truly remarkable event to showcase the beauty of the community.  Meals will be prepared by local chefs, making this event truly a showcase of Griffin's passion and unique offerings.
Enjoy an evening of dinner, drinks, music and more on one of Downtown Griffin's most famous landmarks–the 6th Street Bridge. Your ticket purchase will include a 4 course farm to table style meal atop the 6th Street Bridge. Diners will experience a diverse menu that will highlight what is in season from local growers and farmers. All proceeds will support your local downtown community.
The Sellers Law Firm, LLC, is proud to be a part of this great event, and we look forward to seeing this event become an annual tradition as the years go by.