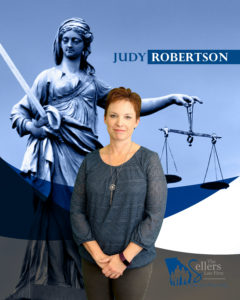 Judy Robertson was born and raised in Griffin, Georgia.  Mrs. Robertson is married to Officer Timmy Robertson of the Hampton City Police Department and has two daughters. Mrs. Robertson's family is her life, and she brings that love and compassion for her family with her everywhere  she goes.
Mrs. Robertson has a wide range of hobbies, including bowling, fitness and nutrition, and traveling with her youngest daughter for softball games all around the state of Georgia.
Mrs. Robertson graduated from Griffin High School in 1993 and later attended classes at Griffin Technical College, focusing on criminal justice.
Since that time, Mrs. Robertson has worked in the criminal justice field for fifteen years, spending a majority of her time with the Spalding County Sheriff's Department in Griffin, Georgia.
Mrs. Robertson's focus in her career has always been about helping others.  She has spent the majority of her career working in the Detention Division, which consisted of working directly with inmates, managing the jail population in various aspects, and running shifts as a Sergeant. Throughout her law enforcement career, Mrs. Robertson has served in multiple job areas, including Inmate Services, Sergeant over Court Services, Director over Victim Services, Administrative Assistant, and Data Entry Division.
As an integral part of the Sellers Law Firm, Mrs. Robertson brings a wealth of knowledge from her career in law enforcement, enabling our firm to offer a more comprehensive understanding of criminal law to our clients experiencing issues in the realm of criminal defense.  Mrs. Robertson is an important part of our family, and we look forward to you becoming part of ours.