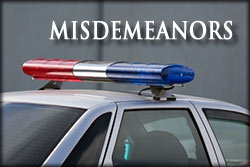 MISDEMEANORS: OVERVIEW
Misdemeanors in the state of Georgia are characterized generally as offenses that result in imprisonment for no more than one (1) year, a fine, or, in some circumstances, both imprisonment and a fine.  In addition to court fines and/or imprisonment, misdemeanor convictions may also result in a probationary sentence, whereby imprisonment may be avoided  in exchange for attending weekly, bi-weekly, or monthly probation appointments, submitting yourself to random alcohol and drug screens, and paying additional costs for probation supervision fees and other miscellaneous fees.
Not only do misdemeanors carry substantial penalties, various misdemeanors may also negatively impact your employment, cause problems with your future educational goals, and affect your ability to drive.  Ranging from theft by shoplifting and simple battery (including family violence) to possession of marijuana less than one ounce and cruelty to children (3rd degree), misdemeanors, although less severe than felonies, can severely affect you for the rest of your life.
Misdemeanor Georgia Law
If you find yourself facing a misdemeanor charge, you need someone on your side that you can count on.  Give us a call today for a consultation to discuss your case at the Sellers Law Firm: where client become family.
For more information on criminal law, be sure to check out our blog for articles in this practice area.