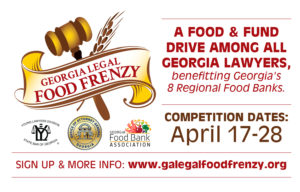 The Sellers Law Firm, LLC, is proud to begin participating this year (our first year of business) in a great tradition : participating annually in the Georgia Legal Food Frenzy to generate food donations for our region!
From Patrick O'Conner/State Bar President: "The 6th Annual Legal Food Frenzy food and fund drive competition kicks off April 17 and runs through April 28. Already, hundreds of firms and legal organizations in Georgia have signed on to raise food and funds for their regional food bank during this friendly two-week competition.
Don't be left out! Register your firm or organization at galegalfoodfrenzy.org/sign-up!
Not only is the Food Frenzy a fun way to go head-to-head with your fiercest rivals outside of the courtroom, it also could not be for a more important cause. We all know we would do anything for our children, but 1 in 4 kids in Georgia are at risk for hunger and this becomes more severe over the summer months. Who is at their best when they are hungry?
When you donate to your food bank, you are making a real difference in the lives of the children and families they serve. For every $1 donated, the food banks can on average put $8 worth of groceries back into the community. That is real impact. "
If you're interested in donating, donations can be delivered to our law firm's office at 100 South Hill Street, Suite 502, Griffin, Georgia 30223, beginning on April 17, 2017.
*DONATIONS ACCEPTED:
Collecting Non-Perishable Food
Most needed food items are Peanut Butter, Canned Tuna, Canned Beans, Canned Soups, Stews, Pastas, 100% Fruit Juice, Canned Fruits, Vegetables, Macaroni and Cheese Dinners, Whole Grains, Low Sugar Cereals (boxed).
Candy will not be counted.
Please don't donate food items in glass containers – they have a high risk of breaking.
Please do not open items that are already packed in cases, cartons, or boxes. This will make it easier for the Food Bank to pick up.
All food donations will be donated to a local food bank in our region, as designated by the State Bar of Georgia
Check out our Facebook event page for more information or the State Bar Page here.